Appeal to the Supreme Court of Canada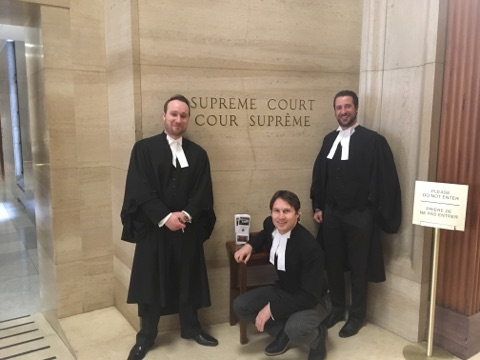 On January 18, 2017 Mr. van der Walle and his co-counsel Mr. Micah Rankin and Mr. Jeremy Jensen (pictured above) appeared in the Supreme Court of Canada to argue the case of The Queen v. Clark.
Mr. van der Walle had won the trial in 2014 by getting all of the evidence of a grow operation excluded on the basis of an illegal search argument.  The focus of the case had been on a late night off record and unrecorded phone conversation between the investigating police officer and a Justice of the Peace.  The trial judge had ruled in favour of Mr. van der Walle's argument that the Justice had inappropriately assisted the police officer get his warrant by recommending that the officer make an important improvement to his application for the warrant before submitting it to the Justice for review.  Unfortunately the BC Court of Appeal saw the case differently than the trial judge and ruled that the trial judge had made errors of law in his assessment of the evidence.  The case was appealed to the Supreme Court of Canada to attempt to get the acquittal obtained at trial restored.
After a valiant effort, unfortunately the Supreme Court dismissed the appeal and in substance agreed with the BC Court of Appeal's ruling.  While it was disappointing not to win, it was a tremendous experience all the same.  Mr. van der Walle would like to thank his co-counsel, Crown counsel particularly Mr. Paul Riley QC, and the Supreme Court for providing such a challenging and memorable experience.
REQUEST A FREE CONSULTATION
Or fill out the form below to receive a free and confidential initial consultation.