Sexual Assault Accusations Are on the Rise: What Happens if You Are Charged?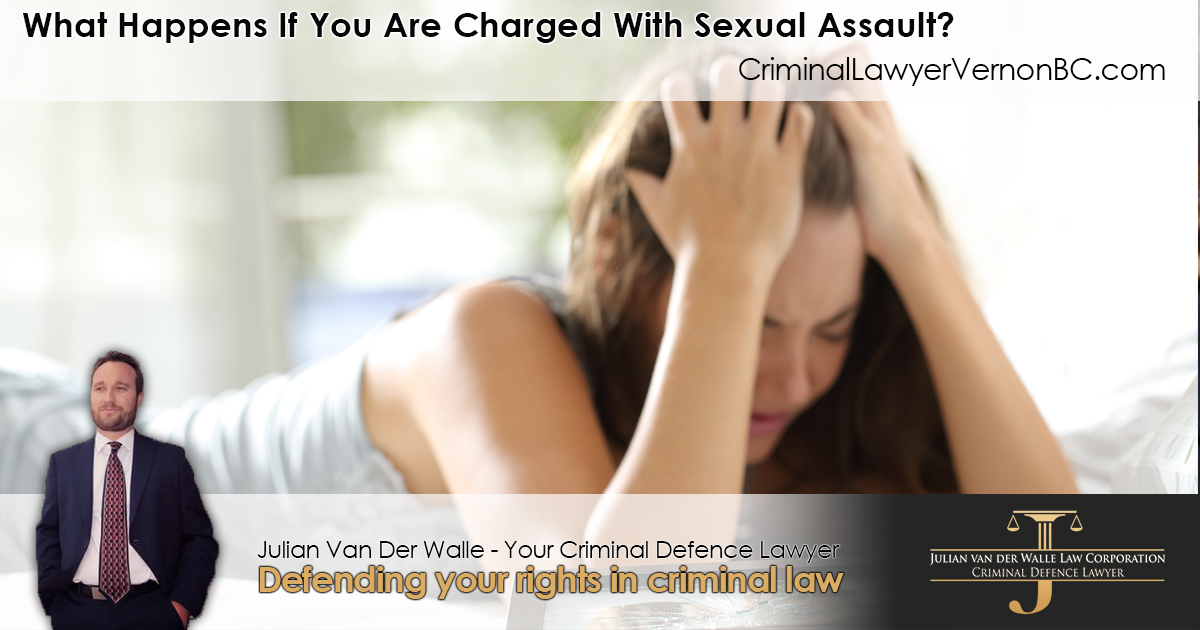 Due in large part to the #metoo and #timesup movements begun in the United States, accusations of sexual harassment and sexual assault are increasing across the globe. In British Columbia, accusations of sexual harassment and assault are increasing in both the workplace context and in society in general. To answer the immediate question: yes, aggravated sexual assault and rape are illegal, but not necessarily all forms of sexual harassment are either criminal in nature or subject to a civil lawsuit.
Canadian sexual assault laws have evolved dramatically over the course of the twentieth century. While many people have an intuitive understanding of what rape is, it is important to consult with an attorney if you have been charged with a sex-related crime and are uncertain what it means. This article is intended to provide background information on the subject of sex-related crimes generally, but it is no substitute for legal representation by a seasoned attorney.
Types of Sexual Offenses in Canada
The types of sex-related crimes in British Columbia are listed in the federal statutes of the Criminal Code. There are two categories of sex crimes: those against minors and those against adults. Anyone who touches anyone younger than sixteen for a sexual purpose is guilty of the crime of sexual interference. Additionally, the solicitation of sex or a sexual touching from a minor is also illegal. While there are certain exceptions to this rule for offenders of a younger age, Crown counsel does not take sex crimes against minors lightly. Sex crimes committed against minors are not infrequent, however, this article is primarily focused on sexual assault against adults.
Sexual assault charges vary based on the nature of the alleged assault. Aside from ordinary sexual assault charges, sexual assault with a weapon and aggravated sexual assault will incur larger criminal penalties. Additionally, where an accused has previously been convicted of a sexual assault crime, the sentences available will increase.
In addition, there are also several types of crimes that are related to sexual offenses but that do not involve actual physical sexual contact. The distribution of child pornography, indecent exposure, voyeurism, and incest are all illegal and can be punishable by Crown Counsel in a criminal inquiry. While these offenses generally incur smaller punishments than actual sexual assault crimes, they are still serious crimes for which you should hire an attorney to assist in your defense.
What to Do Immediately After You Are Charged
If you have been charged with a sex crime, you should begin by contacting an attorney that is experienced in handling sexual assault cases. You will want an attorney with prior experience representing sex crime defendants and who can distinguish between the various types of sex crimes. This type of experienced representation will be crucial to your defense in the long run. While it is possible to defend yourself in against a criminal inquiry by Crown Counsel, it is not recommended.
The Process of Defending Against a Sexual Assault Charge in Court
Sex crimes are indictable offenses, and Crown Counsel will initially seek to bring charges against you. At this initial stage, you have the opportunity to request bail from the court and negotiate a deal with Crown Counsel. If you are innocent, it may be possible to convince Crown Counsel that you are telling the truth and get him/her to drop the charges. However, occasionally, even innocent criminal defendants will have to go to trial.
Prior to trial, your attorney may want to take advantage of various aspects of Canada's criminal laws that can help protect criminal defendants from injustices. First, an experienced attorney may want to seek a preliminary inquiry into the charges. At the preliminary inquiry stage, a defendant can compel a witness to submit to cross-examination about the nature of the offense and the truth of the charges. Second, an attorney may also want to file evidentiary motions that can help set the stage for a favorable trial by excluding the use of potentially prejudicial evidence.
If your case does end up being tried by Crown Counsel in Court, the trial will be an opportunity for you and your attorney to defend yourself from prosecution. At trial, both Crown Counsel and the criminal defendant are entitled to present witnesses and evidence. Once all of the evidence has been submitted, the Court will make a final ruling on the matter. If the ruling is unfavorable, criminal defendants have the opportunity to appeal the decision to a higher court.
Many in Canada often associate drugs with crime, and in many cases, the possession or use of drugs is itself a crime. More recently, a spotlight has been placed on drug-related incidents due to the opioid crisis afflicting the nation. Sociologists have spent...
read more
REQUEST A FREE CONSULTATION
Or fill out the form below to receive a free and confidential initial consultation.